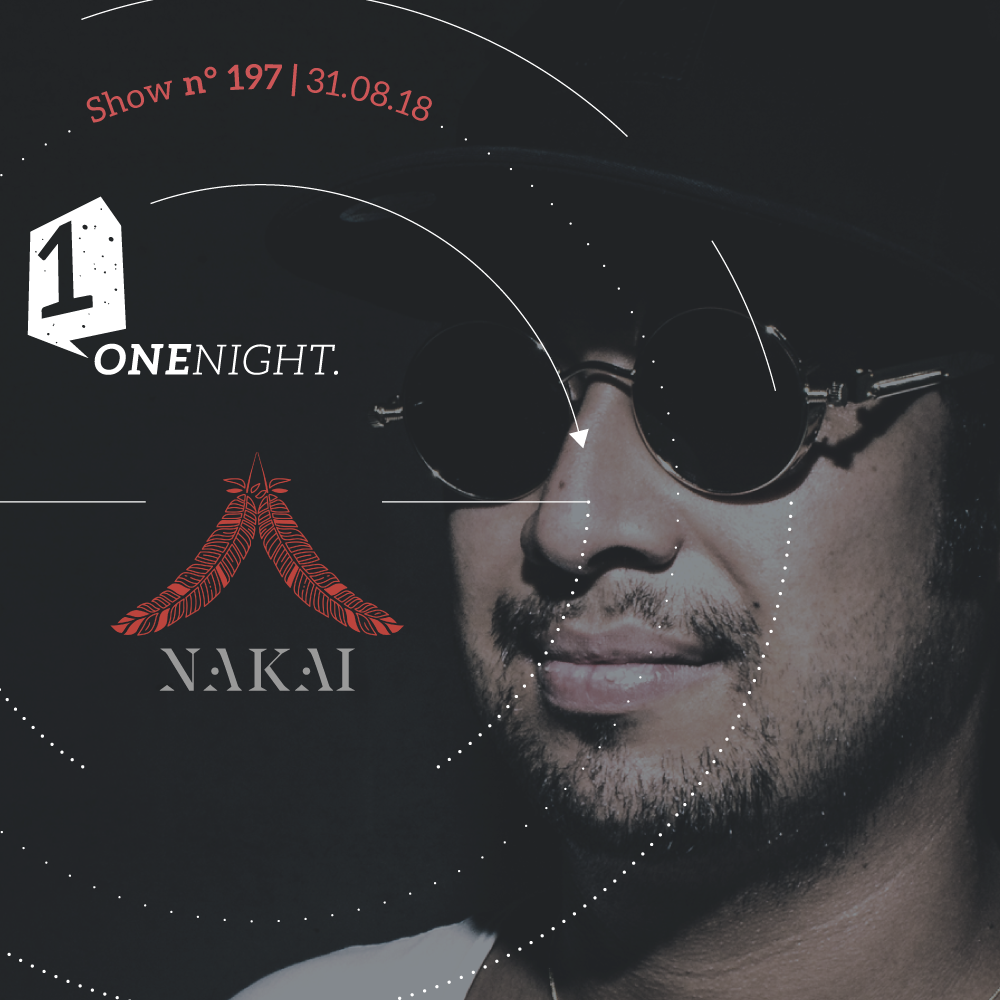 Clearly saying goodbye to Summer 2018, this 2 hour musical journey into today's upfront dance music Nakai lays it down in proper style. As eclectic a show can get. A beautiful mix of melodics and pumping beats, classic songs and just those good feels!
It's amazing to see where One Night. is heading and coming to 200 shows is just amazing and I'm sincerely thankful. 
I want to curate a special show to celebrate peace, love and harmony, which is what brings us together through music, so keep a look out for that one.
love
Nakai  
Tracklist:
James Zabiela - Vines (Original Mix) 
Disclosure - Moonlight (Original Mix) 
Krystal Klear - Neutron Dance (Gerd Janson Birkenstock Remix) 
George FitzGerald - Burns (Lane 8 Club Mix) 
R & D - My Boy (Shadow Child Remix) 
Kornel Kovacs - House Is OK 
Reel 2 Real, The Mad Stuntman - Raise Your Hands (Shadow Child Instrumental) 
Audiojack - Plastic Dreams (20 Year Tribute) 
Ten Ven - Just About (Mixshow Edit) 
Audiowhores - Sometimes (Original Mix) 
Joris Voorn - District Seven (Original Mix) 
Eli & Fur - Night Blooming Jasmine (Rodriguez Jr. Remix) (TUNE OF THE MONTH)
Emanuel Satie - Don't Forget To Go Home (Original Mix) 
Murciano & Nakai - We Are One (Original Mix)
Black Coffee & David Guetta - Drive ft. Delilah Montagu (Club Mix) 
Jerome Hadey - I Wonder (Ninetoes Remix) 
Polymod - No Other (Original Mix) 
York feat. Scot & Millfield - The Awakening 2018 (Extended Mix) 
Frankyeffe - The Sun (Mees Salomé Remix) 
Nalin & Kane - Beachball (2010 2nd Session) (Nakai's OneNight. Edit) 
Solee - Pink Panther (Original Mix) 
Tunnelvisions - Mbosa's Light 
DJ Rae, Sandy Rivera - Crazy: Trippin, Pt. 2 (Sandy Rivera & DJ Rae Club Mix) (CLASSIC OF THE MONTH)